Bussell Interiors believes and practices the philosophy of design that the Kitchen is an essential and intergral part of any home. No matter the size of the space whether grand or very limited our vision and talent will create a dream kitchen that will suit your lifestyle as well as your budget. Since we are not only an interior design firm but also a residential general contractor we understand all of the elements and trades which are required to remodel a kitchen or build a new one.
Bussell Interiors maintains wholesale trade relations with some diverse national cabinetry manufacturers such as Shiloh Cabinetry and UltraCraft Cabinetry which are hand crafted in the USA. In addition we also work with several local custom cabinet makers who can build anything we design. Our trade relations give us the flexibility to design within your budget while not being limited to a specific design style or brand of cabinetry. You dream it; we'll design it and build it for you.
---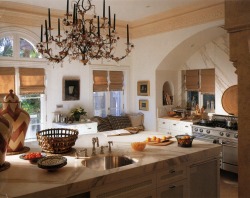 Emphasis on Architecture and Art were the basis of the scope of work that this client gave to me while designing their custom kitchen. The other requirement was that there could absolutely be no upper "wall" cabinets as they wanted to display some of their art collection in the kitchen and not forego displaying some of their items in this very important part of the home where they spend much of their time. This space was designed specifically for their lifestyle with a very large island, built in window bench, arched cooking nook and [not pictured] a custom made "armoire" that surrounded the refrigerator/freezer units. The fine balance of simplicity and sophistication keep this space from looking "overdone" while still exuding a luxurious charm that remains timeless.
---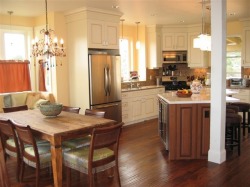 A fine example of creating a kitchen with a luxury feel while remaining budget conscious. The cabinetry shown in this kitchen is from UltraCraft's Vision Series. This cabinetry is loaded with full extension drawer glides, pull outs, large crown mouldings and customized options. No need to spend the money on a counterdepth refrigerator when Bussell Interiors has the imagination and ability to create cabinetry designs that give the appearance of built-in appliances.
Not all cabinetry needs to be the same finish or door design even while being combined in the same room. Our skill at creating unique designs and mixing materials translates to all budgets and lifestyles. We constantly remind our clients that they are not solely limited to Knotty Alder, Oak or Hickory; however if that's the wood species you dream of then we'll certainly create that look for you. We start all of our Kitchen consultations by simply asking; what DO YOU dream of when you dream of YOUR perfect kitchen?
---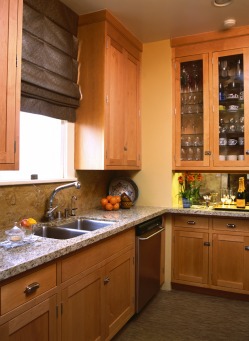 When space is limited then creativity of storage and organization is key. These full height wall cabinets that terminate at the ceiling create maximum storage space in a small galley style kitchen. To prevent the kitchen from looking closed or with a "deadend" we designed a 12" deep "bar" and stemware storage area. The use of cabinetry with glass doors and a mirrored backsplash give the illusion of depth while not taking away from prescious floor space.
Even though this kitchen was designed with a craftsmen feel not all of the elements had to remain "old world". The contemporary "Chiliwich - Plynal" W2W flooring is a very functional and contemporary element while not detracting from the clean lines of the cabinetry. The solid granite countertops also give a streamline feel to the space. The absence of grout joints [which visually create a delination of space] in the flooring as well as the countertops makes the space appear larger than what it is. These elements of design and techniques are something which only a seasoned professional such as Bussell Interiors can bring to your interiors. This kitchen renovation designed and installed by Bussell Interiors was published in Trends Magazine.
---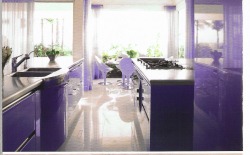 This client fell in love with the Kitchen in a Snaidero showroom and simply nothing else would do for her. It's an example where the design flows around one specific object and in this case it started with the specification and color of the cabinetry. Stainless steel countertops, white thassos marble floor, and top of the line appliances complete the ultra modern decor which maintains a simple color palette. The style and design of this kitchen might not suit everyone's taste, however it does function as a professional kitchen with ample room for entertaining and is exactly what this client wanted 10 years ago and looks just as good today! This kitchen was also published in Trends Magazine.
---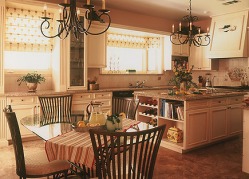 This project is an example where the Kitchen was simply in need of a minor remodel. The client originally stated that they wanted to replace the granite countertops with a new material as they were not happy with the color and the way the existing counters looked against the cabinetry. All of the items in the kitchen were execellent quality and thus after my initial review of the space I suggested to the client that by simply changing the flooring material [original floor was a wood parquet] as well as the color of the walls, adding new light fixtures and window treatments would create such a transformation that they would not feel the need to change out the countertops. The client was thrilled with the results and also estatic that they did not waste any money during their remodel by replacing items that truly did not need to be replaced.